Steve Macleod
1 ١, 2015-2017
Archival pigment print on Hahnemuhle German Etching Paper
Framed in a handmade whitewashed box frame with UV Perspex glaze
138.2 x 109.2 cm
54 3/8 x 43 in
Edition of 3 plus 2 artist's proofs
£ 10,632 framed including VAT of 20% where applicable
"The longer we stare at nothing, the more chance that something will appear to us, creating an unfathomable aura and thoughtful meaning." - Steve Macleod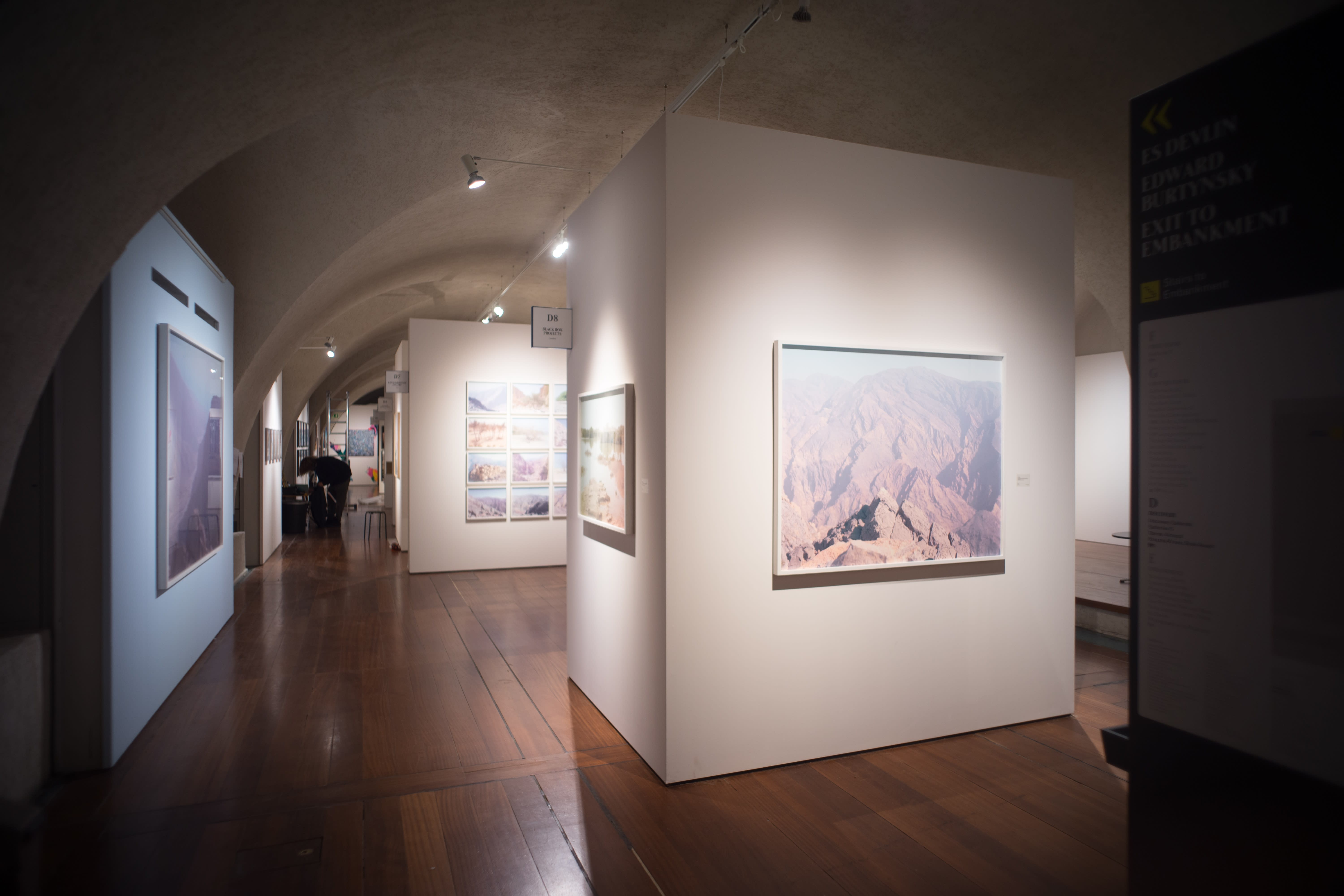 Working with his large-format camera, Macleod created the Hala series of landscapes, devoid of human presence, which embody his Pictorialist ideology. His photographs have always been characterised by landscape's direct relationship to his own psychological state - translating emotion through the lens using colour, subject matter and light. The brooding and dark images of his recent work have been put aside in favour of this body of work that explores colour, light and a landscape of vast emptiness. The resulting pictures speak of redemption - a journey from desert lowlands to a stark and exposed summit - an exploration towards wellness and light. The works are archival inkjet prints on a highly textured watercolour paper, imbuing them with a painterly style reminiscent of early Japanese watercolours and a tactile quality.

"Time stopped as I ventured through silent valley creeks and dry riverbeds. Fierce winds blew high up onto the mountain peaks as I experienced wide breath-taking vistas. I came across ancient Bedouin clan plots, low rock enclosures and pitches marked out on the ground; and small boulder caves; camouflaged and seemingly as ancient as the mountains themselves.

For hours I watched the light, and by searching into a void of nothingness I experienced something that went beyond photography. It felt like I was viewing an untranslatable something that lay within and beyond the mountains - I wasn't there just to take photographs; the landscape was helping explain that even if nothing presented itself to me, there would always be something meaningful to experience."


ART FOR GOOD
10% of all Black Box Projects sales will be donated to Hospital Rooms, a London-based charity championing the healing power of art by commissioning world-class artists to create permanent site-specific art installations and art programmes for secure mental health facilities in the NHS service.