Joanne Dugan: Mulitples and Meditations by Aline Smithson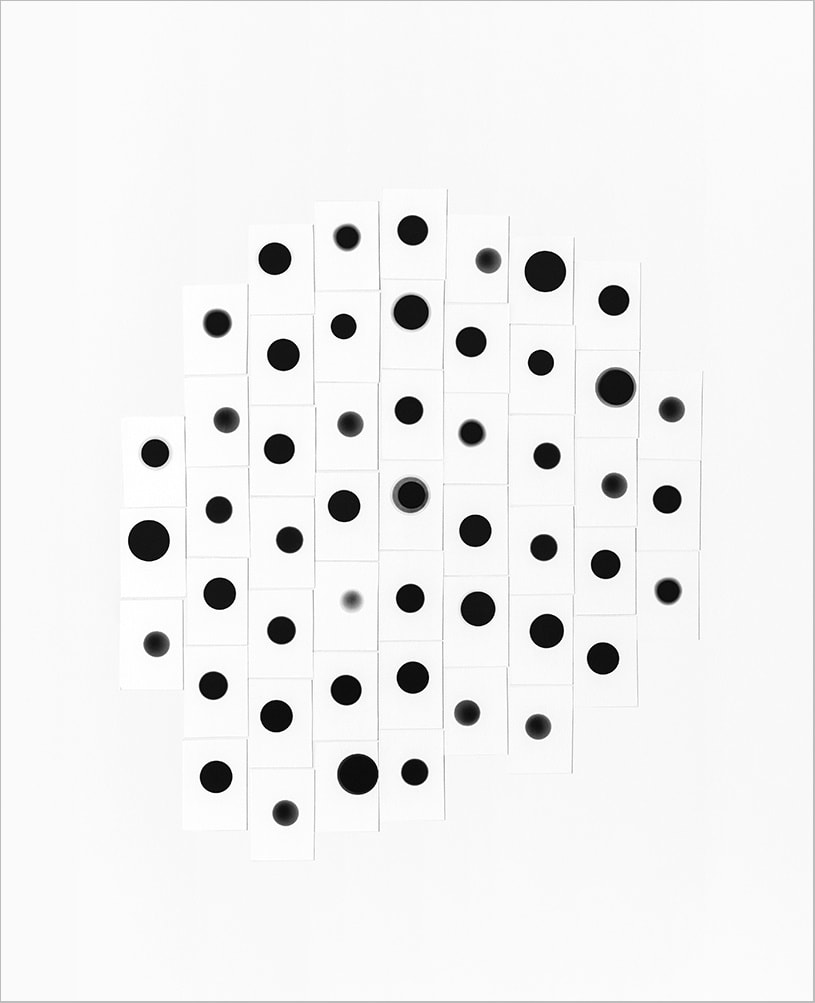 "Enlarger Lens Meditation, #1," 2019 © Joanne Dugan Collage of 50 silver gelatin photograms
I had the pleasure of sharing a meal with Joanne Dugan when she visited Los Angeles recently and enjoyed discussing her approach to photography. Joanne is an artist who uses photographic materials and processes to create art. Some years ago, the New York Times wrote about about her practice: "As a fine artist, I only work in analog. To me, photography is film, and the alchemy of silver and light and chemicals is still really important." And like analog photographs themselves, her "Turning Point" series was born in the dark. Dugan began the project in the aftermath of Hurricane Sandy, while she was sitting in her apartment at the edge of the blackout grid - the view out front was lit, but out to the sides it was dark. "There was an odd peacefulness that that came over me as I roamed around the city in a state of wonder," she says. "I had this epiphany that it is okay to turn my lens only to the light itself, rather than the subjects." The fragility of light became her focus as she traveled the city, often by bike, layering her images with up to 20 multiple exposures. "The work is an homage to the traditional process," she says, "but brings a modern viewpoint."
She has had a decades long commitment to the darkroom, and her projects, Meditations, Multiples, Series 2 and Turning Point, all speak to the meditative state of the darkroom to create unique one-of-a-kind collages.
Joanne's work is currently in the exhibition, Fundamentals, at the Black Box Gallery in London, running through October 19th.The exhibition brings together the work of nine international contemporary artists who apply historic photographic techniques to create innovative and unique artworks. The artists, many of whom work with handmade cameras, modified cameras, or no camera at all, are unified by their dedication to exploring the processes of the past and discovering novel approaches to factoring them into their practice, while redefining the very root of what photography can be.
"Gelatin Silver Paper Meditation, #1," 2019 © Joanne Dugan Collage of 90 silver gelatin photograms
I use traditional analog photographic materials in unconventional ways to create multi-image works that explore photographs as three-dimensional, contemplative objects. The darkroom is a key component in the process, often serving as both light source and output device. I am currently informed by the tradition in various spiritual disciplines of using visual aids to deepen awareness, including the Tantric yantra (a form of mystical diagram). My works are meant to represent various states of mindfulness and consciousness, with the goal of engaging the viewer in a state of quiet contemplation. Each piece is a visual meditation, highly informed by my own sitting practice. - Joanne Dugan
"Cutting Meditation, #1," 2019 © Joanne Dugan Collage of 16 silver gelatin prints
Joanne Dugan is a visual artist who lives and works in New York City.
Her current practice involves the experimental use of traditional silver-based analog materials and technology to explore photography as a three-dimensional, physical medium. Her unique-image works utilize intricate, repetitive hand-cutting and painting techniques, chemical alterations and vintage equipment to pay homage to the physical limitations and opportunities found in analog methods, while also exploring the potential for creating works informed by mindfulness practices. Each piece is fully rendered by hand, slowly.
Joanne's works have been exhibited in the United States, Germany, Amsterdam and Japan. They are part of many public and private collections and have been featured in The New York Times T Magazine and the Harvard Review. She is represented at the Marlborough Gallery in New York City, the Kopeikin Gallery in Los Angeles and Black Box Projects in London.
As an author, Joanne's image/text pairings have been published in seven books, including two fine-art monographs. Her limited-edition artist book Mostly True is in the permanent library collections of The J. Paul Getty Museum, The Los Angeles County Museum of Art, The New York Public Library and The George Eastman House. She is the editor of Summertime (Chronicle Books), a hardcover photography book featuring the work 46 emerging and established photographers.
Joanne is a faculty member of the International Center of Photography in New York City and the Fine Arts Work Center in Provincetown, MA. She has taught and lectured about the creative process in numerous institutions across the country. Her studio and darkroom are located in a 19th-century building in Union Square and she lives in Harlem.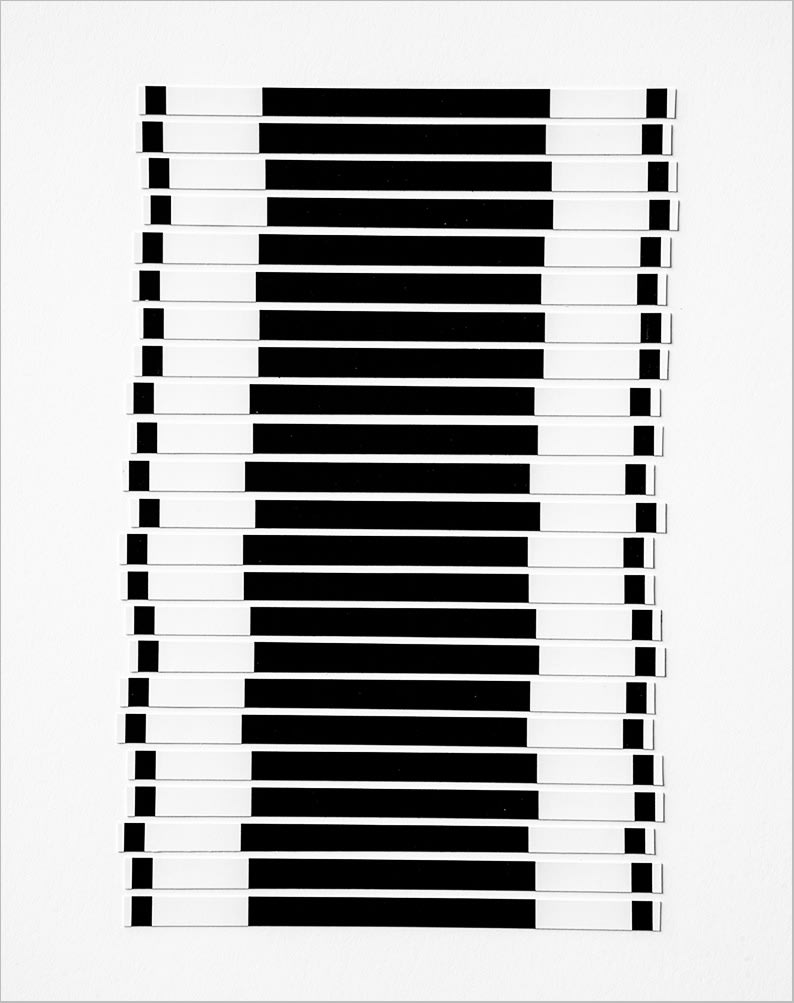 "Cutting Meditation, #3," 2019 © Joanne Dugan Collage of 23 silver gelatin photograms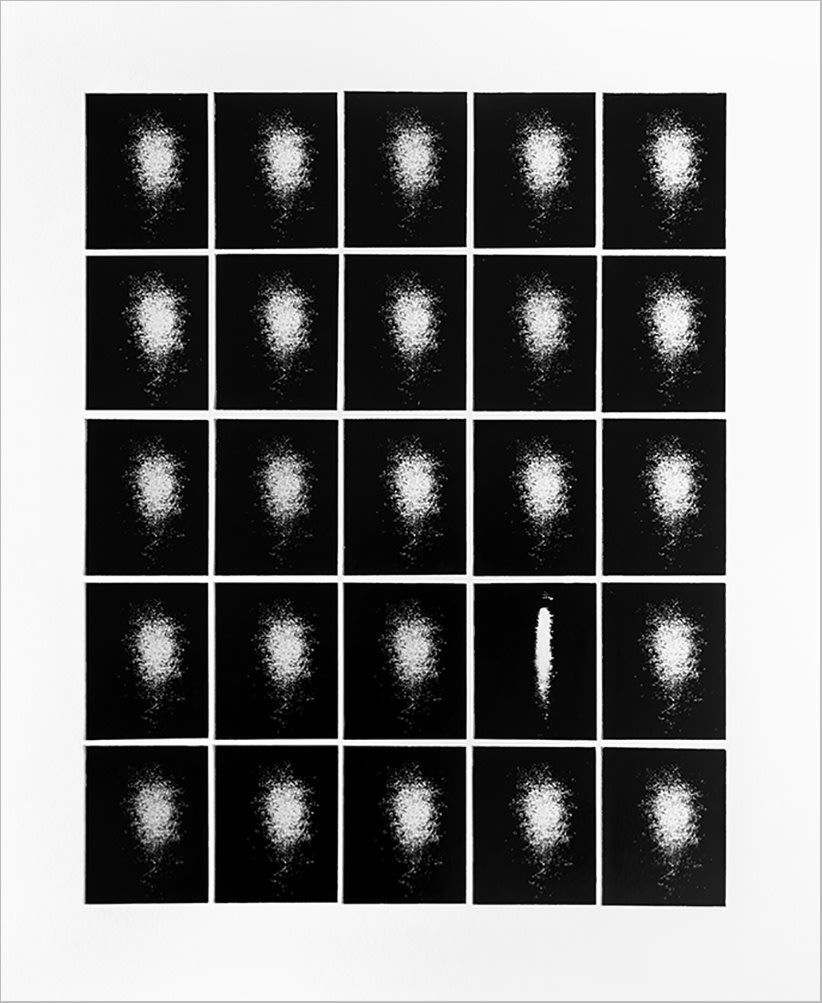 "Multiples 25, Grid #2," 2017 © Joanne Dugan Collage of 25 silver gelatin prints
"Multiples 25, Grid #19," 2018 © Joanne Dugan Collage of 25 silver gelatin photograms
"Multiples 25, Grid #21," 2018 © Joanne Dugan Collage of 25 gelatin silver photograms
October 7, 2019